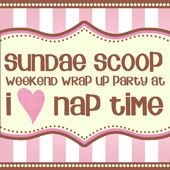 I have been meaning to post about these cute bedside tables for a while now...actually I am trying to get better about blogging in general. I love it because it is like a journal to me. I love looking back over the years at things we have done :)
My mom gave me these bedside tables a while ago and they were perfect for my bedroom! Except they were not the cutest as you can see..... but we knew they had potential! They have a cute shape to them..
First thing I did was take the drawers out and primed everything with Kilz primer...
I love the look of painted furniture with the natural wood look up top..... so I sanded down the tops of them which took forever!!! I was wishing I had an electric sander at this point! (wow, I am really surprised & proud of myself for actually taking pics throughout this process!!)
I stained the tops of them with this Minwax stain in dark walnut. It took about 5 coats of that to get the darker color I wanted....Then I put on a coat of satin polyurethane to protect it....
This is how they looked in the end!!! I LOVE THEM :) I painted them Seaside Villa by Valspar and I love this color. One of my favorites now! I also distressed them with sandpaper & went over it with a Ralph Lauren glaze in Smoke. I ended up keeping the original hardware and spraypainting them with an oil rubbed bronze color.
This is how they look in our bedroom....
I am so ready to get my bedroom finished!!! Things left to do:
-spray paint headboard an oil rubbed bronze color to match hardware
-find some cute frames for a frame collage next to windows above bed
-find some cute throw pillows for bed
-save up some $$$ for a big soft brown area rug for under our bed
To see the rest of my bedroom & to see how I did the faux board & batten click
here!